A left-brained creative

I used to think I wasn't very creative, because I process so logically and think so academically. But photography showed me how my intellectual side can help me transform the image in my head into reality. These skills carried over as I began to learn videography for SBU-TV. Now I know I'm a unique kind of creative. And what I see still matters; I visualize differently. I write differently.
---
Curiosity

As a journalist, reporter, photographer and human being, I love to ask questions and figure out how things work. For this reason, I choose minors in Spanish, history and psychology. Spanish allows me to communicate with more people, which means learning more about different lives and cultures. History gives my questions important context and background information. Psychology provides scientific explanations for why people act/respond/think the way they do. Interpersonal people understand how people behave, but psychologists help explain WHY.
---
My journalism major meshes with my psychology minor in my social psychology blog For the Psych of It.
Leadership
| | |
| --- | --- |
| | I am a "helping-people addict," and I firmly believe in leading by example. From News Editor to Photo Editor for the newspaper, from helping students with their papers to filling in for my former photojournalism professor, I love working with younger journalists and helping them improve. After I gain a few decades of journalism experience in the "real world," I would love to teach journalism at a university. I could teach my students, and my students could teach me. Then I could fulfill my dream of becoming a full-time student. |
Powered by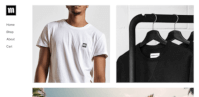 Create your own unique website with customizable templates.